Boys' tennis serves up another season
Roncalli tennis season starts with a win against Franklin Central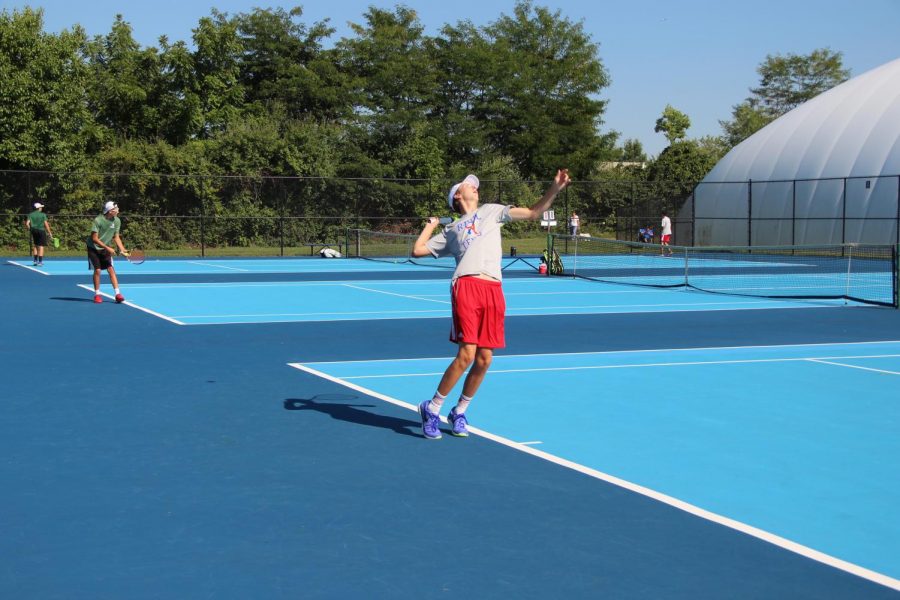 The Rebels swept the Flashes to start off their 2018 tennis season. Varsity won 3-2 assisted by the Schofield and Meek brothers. Varsity's single victories came from senior Austin Schofield and sophomore Tyler Schofield. Roncalli's deciding win came in doubles from sophomore Kaden Meek and senior Garrett Meek, who emerged victorious after a nail-biting three hour match.
The JV team completed the tennis sweep in true Rebel fashion. The doubles team consisting of sophomore Liam Moore and freshman Sammy Langston, along with the freshmen doubles team of Ty Ransburg and Eamon McIntyre, triumphed over the Flashes without losing a game.
According to head coach Jim Stone, the most important components of this season's tennis team are their determination and companionship.
"I can expect 100 percent effort from every player every time they play," Stone said. "This team has a strong work ethic and great team chemistry."
Senior Tyler Pollard added to Coach Stone's remark, saying he has never played on a team like this.
"This team's camaraderie really stood out to me," said Pollard, "I've never played on a team with better chemistry."
The boys' next match will be on Monday, August 27 versus Brebeuf Jesuit High School.
About the Contributor
Josh Wormann, Staff Writer
Josh is a 6'2" junior at Roncalli. He plays baseball and tennis for the Rebels, CYO basketball for the OLG Eagles, and participates in local "Masculine...