Starting off the season strong
Lady Rebel volleyball sweeps the competition, winning five of six so far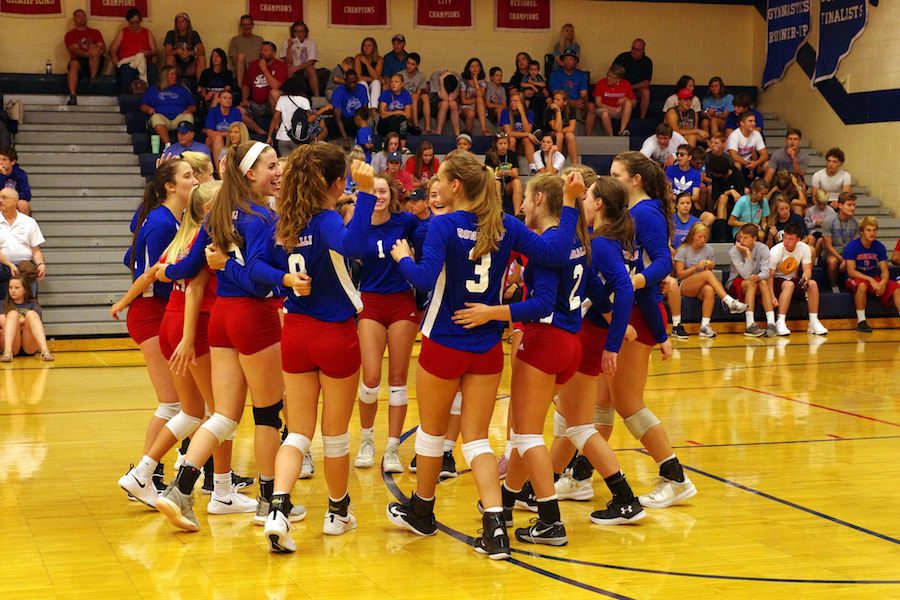 There are a lot of questions being asked about what the girls' volleyball roster would look like this year after graduating four seniors from last season. Who was going to replace Lauren Fey, Amelia Banister, Hannah Irmer, and Grace Lawrie, all of whom played pivotal roles for the Rebels? Head coach Missy Marsh is asking a lot of this year's seniors as leaders to the large portion of underclassmen.
"I feel confident in the leadership coming from our five seniors. This core group has been playing at this level for years and are ready to lead this team." Marsh said.  
Senior Elizabeth Eads was more than up to the challenge of being a leader to the younger members of the team.
"It was a difficult transition at first because I am now being put in the leadership position as a senior," Eads said. "I have enjoyed the challenge of this new role and am looking forward to how this season unfolds."
The underclassmen have risen to the challenge thus far, having won five of their first six games against Franklin Central, Lawrence North, Bishop Chatard, Warren Central, Covenant Christian, and dropping a tough loss to Carmel in five sets, all of which featured several new faces in the lineup. Junior setter Elizabeth Origer has started in all five matches of her first season on varsity. Junior defensive specialists Grace Irmer and Molly Roeder have seen a lot of time on the floor. The lone freshman, Emma Halter, has been the defensive anchor as the libero (player wearing the different jersey) in all matches so far.
Halter says she feels a special motivation to perform because she is not only the successor to Irmer but is also wearing the same jersey number as well.
"Being a libero requires leadership and [Irmer] was such a great leader for her team," Halter said. "Living up to those expectations will take time and effort but I am working to grow into that role each day."
The lack of varsity experience in Halter and her other new players does not worry Marsh as they begin their tough regular season schedule. According to Coach Marsh, this early success is just the beginning of what promises to be a very strong year.
"I don't expect a drop off from last season," Marsh said. "I see this team winning a county, winning sectionals, and winning conference this year. We are going to be a tough team to play."
The upcoming matches will put the Lady Rebels' strong start to the test Coach Marsh, however, believes that the season looks promising.