Steps toward PSAT prep
PSAT presents a multitude of benefits, provides opportunities for college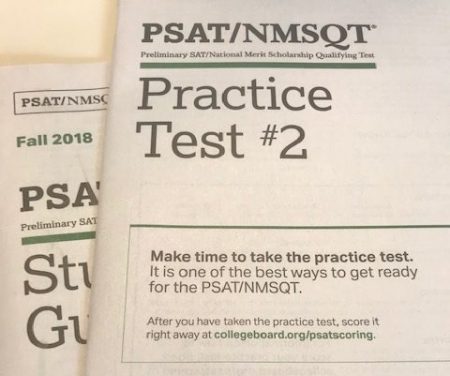 Hang on for a minute...we're trying to find some more stories you might like.
Everyone knows that the PSAT is a standardized test that almost all students are required to take. However, not all students know the importance of this test and the benefits it can have when you perform well.
Senior Amanda Blankenberger knows the importance of the test all too well. Blankenberger is a National Merit Commended Student, which means she placed in the top 3% in the whole nation.
"[The PSAT] measures how well you will do in college and compares you to other students," Blankenberger said. "Khan Academy was really helpful, and helped me with what I needed to work on."
Some students don't think they need to take the test seriously, but guidance counselor Lisa Beckwith, who is in charge of the PSAT, still urges kids to do their best on the test.
"Even though colleges don't look at PSAT scores, it still prepares students for college entrance exams," Beckwith said.
Preparing students for the SAT and ACT isn't the only benefit the test can have. Beckwith states the test has multiple potential advantages.
"The National Merit Qualifying Exam can qualify students for thousands of dollars in scholarships," Beckwith said. "Juniors could lose potential scholarship money if they decide to not perform at the best of their abilities."
The PSAT offers multiple beneficial opportunities for students all over the country. Students should remember to do their best, as the PSAT can help aid students in their academic future. Students can prepare for the PSAT by linking their previous PSAT scores to Khan Academy or they can use the PSAT test prep guide on Naviance.