Boys' cross country team thrives under Coach Buckley
Rebel runners deliver another strong campaign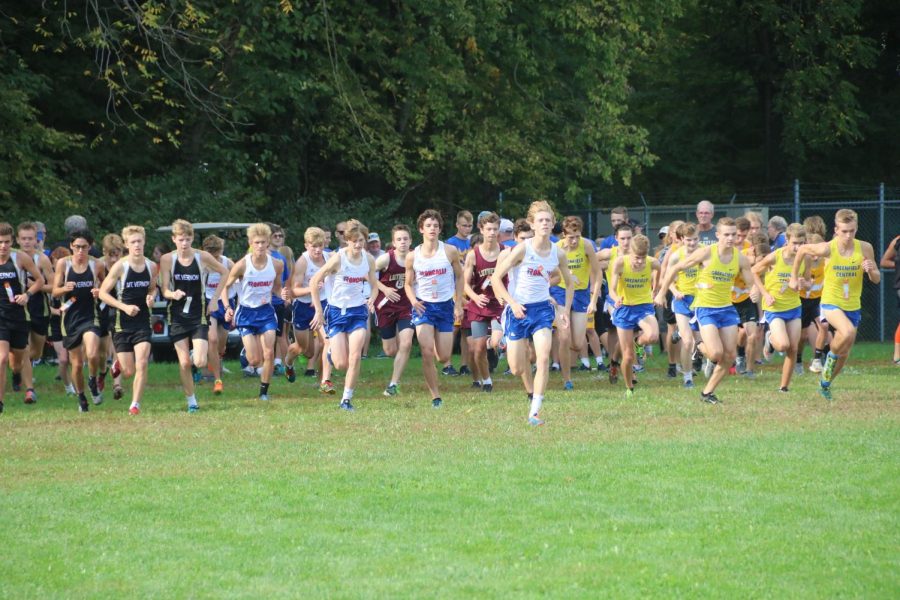 The boys' cross country team looks to continue to find success in October after a successful 2018 season. Senior Nick Perkins also hopes to advance to the state meet for the second year in a row.
Going into the sectional meet, Perkins was complimentary of his opponents, while staying confident in his pace and ability.
"I think the competition this year will yield some quick dudes from New Pal," Perkins said, "but assuming I don't lay an egg, I should have this race in the bag."
Besides Perkins' individual success, the team has pieced together an impressive season. The Rebel runners won two duel meets, placed first in the Greenfield Central Invitational, placed third in the Circle City Conference Meet, seventh in the Marion County Meet and fifth in the sectional meet, proving that the strength of last season's team has carried over.
Coach Jeff Buckley's training tactics are a huge factor in this team's success. Buckley uses simple yet effective methods to help his team improve.
"I prepare our runners by increasing their mileage [in practice]," Buckley said. "Increasing mileage improves oxygen flow into muscles, which is vital to enhancing endurance and recovery."
Along with increasing mileage, Buckley also has runners do warm-up exercises outside of running to enhance endurance.
"The most important training is running," Buckley said,"but other core and body weight exercises help support endurance as well."
At first, some runners were concerned about these exercises, not seeing positive effects or improvements in their running. Over time, though, most have come to understand and accept the exercises, which include core and bodyweight exercises such as yoga poses.
"I used to not take Coach Buckley's exercises as seriously," said Perkins. "After a few seasons I've realized that the exercises have helped me become more successful."
The exercises are helpful in the long term to improve endurance, and also double as an effective stretching routine. Runners such as junior Owen Herndon believe extensive stretching is vital in preparing for races.
"I stretch a lot [to prepare for] each race," said Herndon. "Stretching helps me get in the right mindset [for meets]."The boys' cross country team will compete in the regional meet October 13 at Rushville at 11:15 AM.
About the Contributors
Josh Wormann, Staff Writer
Josh is a 6'2" junior at Roncalli. He plays baseball and tennis for the Rebels, CYO basketball for the OLG Eagles, and participates in local "Masculine...