Bringing home the hardware
Boys soccer caps off an unforgettable season with a sectional title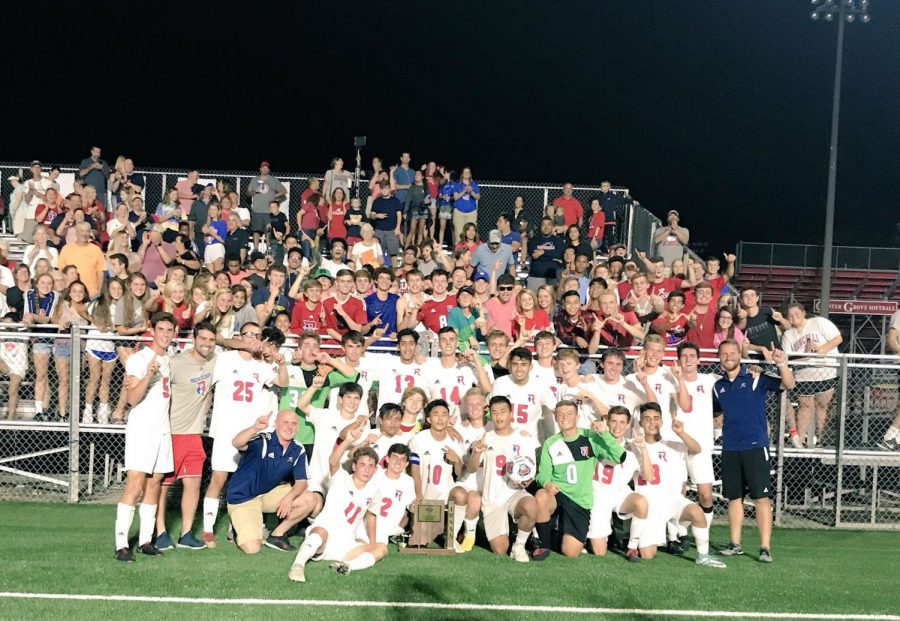 The Rebels had two main goals this season- produce a presence in the Circle City Conference and win a sectional title, and they did just that.
The Rebels defeated Perry Meridian 1-0 in the sectional final with a goal scored by senior William Bawi.
"We waited four years and to finally beat Perry was great," senior captain Daniel Woodruff said.
After sectionals, the team continued to deliver when defeating 8th ranked Castle in the first round of regionals 1-0 with a goal scored by senior Mateo Gonzalez. The Rebels continued their campaign into the regional final; however, they lost to Bloomington South 1-0.
"I was blown away with how the team played in regionals. Beating Castle was a big win that took a whole team effort," Coach Joe Schonegg said.
The Rebel soccer season began in the beginning of August to mid October. Varsity finished with 13 wins and 2 ties out of 20 games in the season.  The Rebels defeated schools such as Guerin, Franklin Central, and Whiteland. The rebels defeated Guerin in impressive fashion 3-0 with goals scored by  Bawi, Gonzalez, and senior Bryan Guerrero.  
"We gave everything we had game by game," senior captain Robert Thang said.
The boys also had a resounding win over Brebeuf 3-0 in the Marion County Tournament with goals by Bawi, senior Guerrero and  junior Vince Agramonte. They also finished with a record of 5-1 in the conference, made it to the conference final, and a sectional title to add to their resume.
We learned our mistakes and fixed it in the next game," Thang said. "We lost as a team, and we won as a team."
A big group of Rebels developed and made teams that many look to. Agramonte, Guerrero, junior Aidan Newett, Thang, and Woodruff made the all Circle City Conference team.  Three players reached an all district team Thang made first team all district, and Agramonte and Woodruff made second team all district.
The soccer team will lose 11 seniors next year, but hopes to build upon this successful season.
When asked about the seniors, Schonegg said, "Their experience was invaluable and was the one thing that really pushed us over the top and carried us into regionals."
With this guidance, Rebel boys' soccer will start a new season next fall in 2019.