Green scooters take over Indy
Students describe the experience and popularity of Bird and Lime scooters spread throughout Indianapolis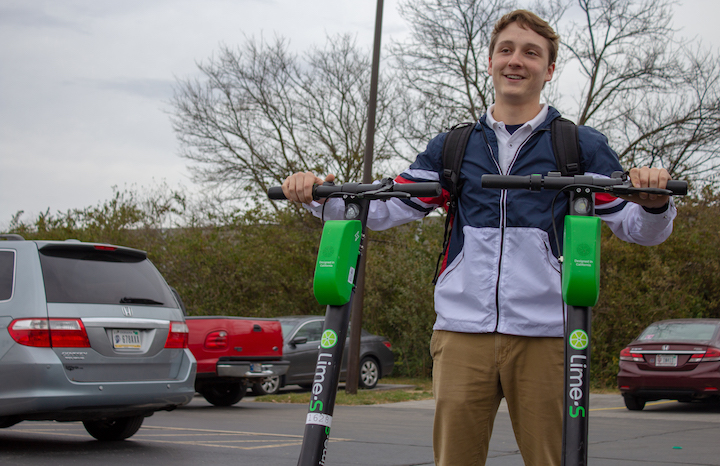 When you visit downtown Indianapolis, you will find several fun and interactive ways to get around. There is one new fad that is taking over downtown streets, however, and that is scooters. At any particular moment, you will see several Hoosiers on these micro machines, flying through streets and sidewalks. Two popular companies, Lime and Bird, offer fun ways to move around for a low cost.
"I saw my friends riding Lime scooters on snapchat," senior Shane Sullivan said. "So over fall break, I had to ride one."
A Lime scooter, a green and white electric scooter, only takes $1 to start, and costs 15 cents per minute after that. It's cheap, it's fun, and it's electric, so it is environmentally friendly. What more could you ask for?
Popularity for these scooters began to rise earlier this summer when they started popping up around the downtown Indianapolis area. Both Lime and Bird offer scooters in several other major US cities. Recently, Lime has begun to put scooters in countries around the world such as Australia and London, England.
"My experience was great," Sullivan said. "I got to ride around downtown with my friends and we got to see some cool places in a short amount of time."
With these scooters being electric, they need to be charged often. Thing is, there aren't any charging stations for them. The two companies pay people to charge the scooters at their homes, paying these "harvesters" money each time they charge some scooters.
"I saw an advertisement calling for harvesters on Instagram," senior Nicholas Dietz said.
People like Dietz are making some money while doing something that they enjoy.
"I get paid around $60 per night to round up between 10-15 scooters and charge them," Dietz said. "Then, before school starts, I go back and drop them off downtown. I usually do this about 4-5 times per week."
With so many scooters on the streets, however, measures have been taken to ensure safety for both riders and the people around them. IMPD has stressed that riders are not allowed to drive them on sidewalks, and they have also been monitoring where these scooters are being parked. In fact, for a time, the two scooter companies pulled the scooters from the streets before bringing them back in September. Despite the rules, people can still have a fun time going about 15 miles per hour on an electric scooter.
"It's a cheap, inexpensive way to have fun with friends," Sullivan said.
Even as the weather gets colder, people are still driving around Indy on these scooters. And Indianapolis isn't the only place where they are blowing up. Cities around the country are experiencing a rapid growth in electric scooters. So don't be surprised to see more and more people driving these micro machines when the weather gets warm again.