"Shoeless" Perkins places 10th
Nick Perkins gives insight on becoming first all-state cross country runner in Roncalli history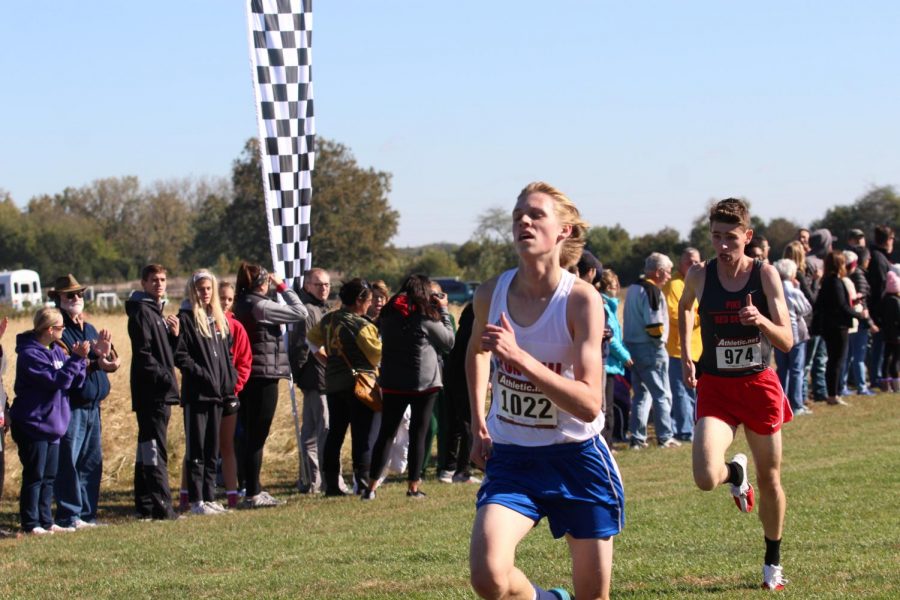 Stumbling back to the minibus barefoot, senior Nick Perkins was pleased with his performance in the state meet. Expecting to place 13th, Perkins finished up at 10th.  As a state meet tradition, Perkins, along with his other competitors, tied his lucky spikes together one last time after three long seasons, and threw them into the "famous shoe tree" at Laverne Gibson course. However, the throw took two attempts because Perkins missed the first time. The throwing of the lucky spikes signifies the end of an era for Perkin's Roncalli cross country career.
Shoe-clad at the time, Perkins caught up with seven people in the last mile, pushing himself from 17th place to 10th. Last year, he was 121st, improving more than 100 spots this year.
"I expected to place 13th," said Perkins. "There were rankings for the state meet on inccstats.com that seeded me at 13th. I'm thankful that I exceeded spreadsheet expectations."
Perkins made a minor mental adjustment in the offseason, which led to major success in his final season.
"I changed my mindset," Perkins said. "I wasn't nervous during any races this year and I stopped worrying about how painful races are because I figured my competitors are in the same boat."
Perkins leaves behind a legacy that will continue to inspire his teammates to improve. Coach Jeff Buckley saw this first hand over the past four seasons.
"[Perkins] leaves a standard in preparation and racing that was previously lacking in our program," Buckley said. "His mental focus is off the charts. He has taught his team what excellence is."
Perkins' teammates agree that he has acted as a role model both on and off the course.
"Perkins was an incredible role model through his actions," junior Ryan Flick said. "He always completed what coach asked of him, never complained about a workout, and constantly encouraged and supported other runners."
Perkins has become the first Roncalli all-state cross country runner ever. He passes former Rebel runner Dean Meacham (R '02), who placed 49th in the 2001 state meet.
"I think the absence of Nick will hurt the team, of course, but it will also help our seniors next year to mature and learn how to become better runners," said junior Owen Herndon. "We really need to step up next year and not just win as an individuals, like Nick, but win as a team."
Perkins plans to continue his cross country career at IUPUI next year.
About the Writer
Josh Wormann, Staff Writer
Josh is a 6'2" junior at Roncalli. He plays baseball and tennis for the Rebels, CYO basketball for the OLG Eagles, and participates in local "Masculine...