Season begins for Rebel wrestlers
Wrestlers prepare for their season with both hard work and competitive play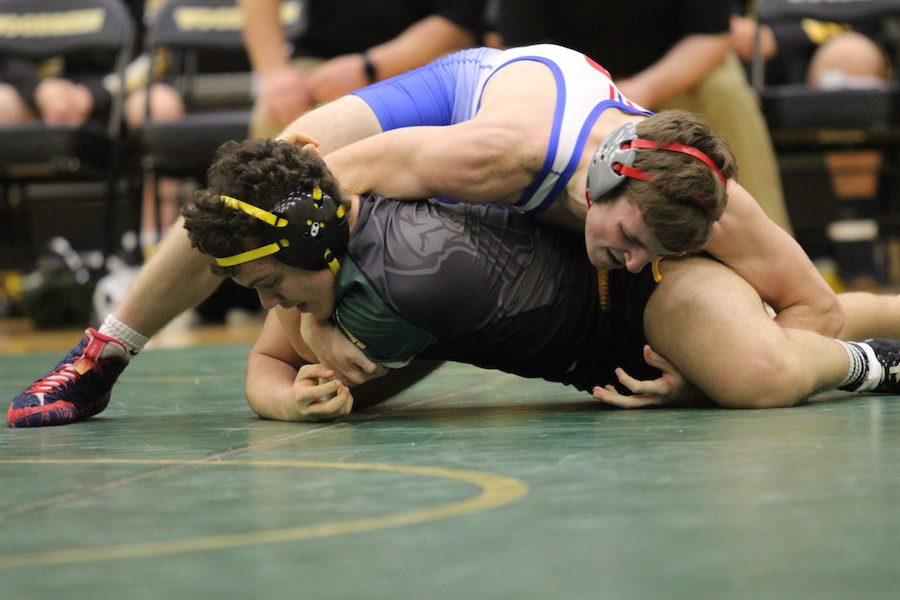 The Roncalli Wrestling team has had an outstanding last few years. Four state placers are returning this year: senior Elijah Mahan, and juniors Alec Viduya, Brayden Lowery, and Tyce Freije. The team is expecting to be very competitive this year. But what happens behind those infamous doors in the wrestling building?
Spike ball. Before the wrestlers get to the intense mental and physical work, they play spike ball in order to unwind between school and practice. The game's rules are a combination of tennis and volleyball. Each person plays with a partner and bounces a ball back and forth on a mini-trampoline net.
"I think spike ball helps us bond as a team," varsity wrestler and returning state qualifier Tyce Freije said. "It teaches us to work together and that wrestling is a team sport; it's less about ourselves and more about the team."
After the fun is over, the work begins.
"Expectations are to get better every day and to control the things that they can control," head wrestling coach Wade McClurg said. "We focus solely on attitude and effort."
The majority of the team is putting in the work throughout the year to continuously improve. Most wrestlers compete for RWF (Rebel Wrestling Foundation) in the off-season tournaments at local, state, and national levels. RWF has boosted wrestling at the CYO level, with kids from all over the South Deanery from pre-school to high school wrestling year round.
"These pre-season events are a great measuring stick for our guys to see what weaknesses and strengths they possess heading into the season," McClurg said. "They allow us to go back to the practice room with a purpose to get better in specific areas that they need to improve in  and continue to build in the areas that they are finding success in."
Six Rebel wrestlers traveled to Greensboro, North Carolina, in October for a national tournament called the Super 32 Challenge. This prestigious tournament is the toughest national scholastic tournament in the country, filled with multiple state champions, including Viduya who went 5-2. Lowery went 3-2, Freije went 1-2,  freshman Ashton Brandon went 1-2, and freshman Kody Glithero went 0-2.
The future of the team looks promising with 14 freshman coming in with very impressive youth wrestling resumes, like Glithero. They will be led by five seniors who made it to semi-state last year.
The team competed last Saturday, December 1st at Westfield Shamrock Duals resulting in an undefeated score of 5-0 and were tournament champions.
The team is in action tomorrow morning December 8th at home in a tri-meet versus Seymour, Noblesville and New Palestine at 9 a.m.
About the Contributor
Logan Wong, Staff Writer
Logan Wong is a senior at Roncalli High School. He participates in varsity cross country and track & field. The 2019-2020 school year is his second...