Merry popsicle sticks and candy grams
Student Council helps students get into the Christmas spirit and de-stress before finals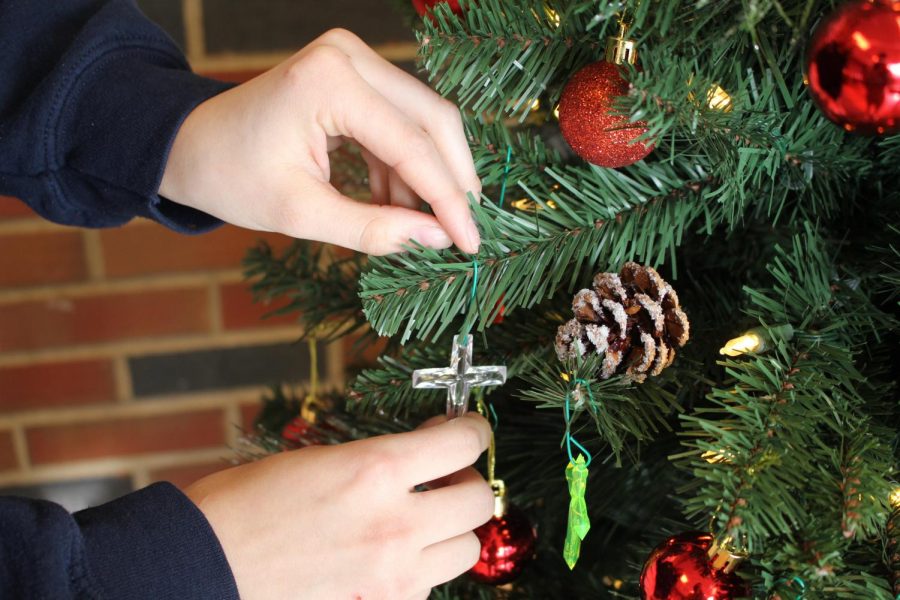 Remember those inspirational popsicle sticks that floated around the school during finals week? Ever wonder where they came from?
StuCo. Each year, StuCo, led by moderator Mr. Ryan Costello, encourages the school to celebrate Advent with each class student council member taking on a specific event. Along with selling candy grams at lunch, the freshmen write anonymous candy gram messages to ensure each Roncalli student gets at least one candy gram this year. That's over 1,000 candy grams!
Those Christmas trees outside the chapel with the red and blue ornaments? Student council sophomores set those up. The prayer trees are designed to help people find peace through the chaos that finals and Christmas bring. Students are encouraged to take a cross from the first prayer tree into the chapel, say a short prayer for those in need for peace in their heart, and then return the cross to the second prayer tree.
"The prayer trees were a way to combine a bit more decorating with a simple way to encourage intentional prayer," Costello said.
The juniors tackled the task of decorating hundreds of popsicle sticks.
"I wanted to encourage students to stay positive, so I included phrases such as 'You got this!' or 'You can do it!'" junior co-president of spirit Ryan Flick said. "I also wanted to have some fun with the sayings to make people smile, so I wrote 'Let's get this bread!' on a lot of them as well."
Surprisingly, creating hundreds of positive popsicle sticks only took participants half an hour to complete. These popsicle sticks are distributed through finals week to give students one last boost of encouragement before testing.
"I honestly loved them! I never knew who they came from," senior Raquel Ramsey said, "but they made me take a deep breath and relax about my upcoming final."
And the seniors? They set up the Nativity scene on the main circle.
All of these decorations and random acts of kindness seemed to just appear overnight. However, unbeknownst to the remainder of the student body, students from every grade worked together to make the holiday and finals season a bit merrier for their peers.