Revolution of resolutions
A satirical look into Rebel resolutions from last year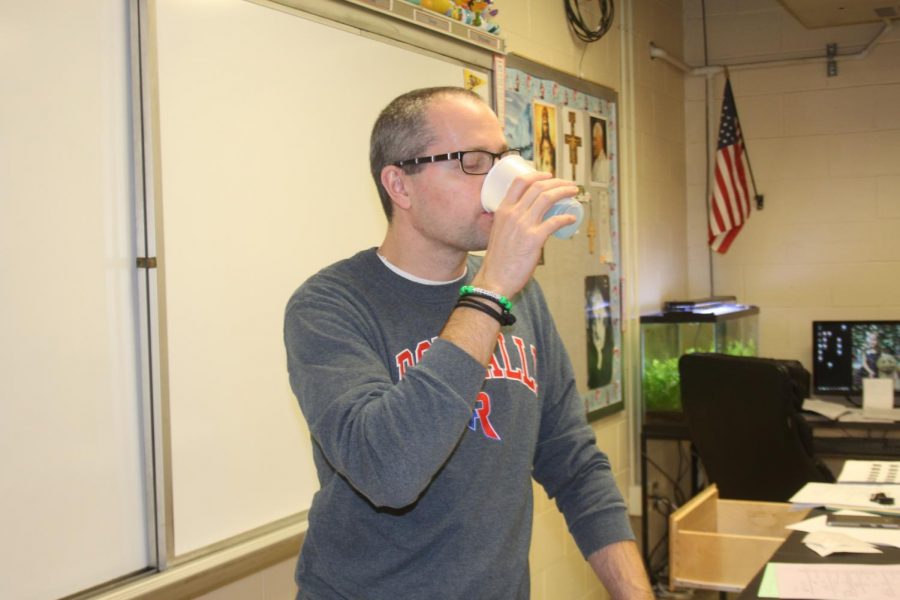 With the new year just weeks away, Roncalli students have an important question to answer- What perfectly normal and constructive resolution must I fulfill this year? Many fail to keep up with their resolutions, quitting by the time February rolls around. On the contrary there are many students and teachers who use their Rebel spirit to power through. Here are the most committed resolutionists of 2018.
Sophomore Robert McKay decided 2018 was the year to expand his music knowledge, so he committed to listening to Nickelback's entire discography five times a day.
"It was very difficult to listen to at first," McKay said, "but after the first few weeks it really grew on me."
McKay was not speaking figuratively. Three album covers have now literally grown onto his back, but McKay does not mind.
"Since I am such a committed fan," McKay said, "the albums growing out of my back really do not bother me anymore. I'm hoping if I continue this into next year, Chad Kroeger's face will appear on my face like a face tat."
Wow! What a dedicated Nickelback fan! But McKay's new year resolutions still appear to be tame compared to many others' goals from this past year. Sophomore Trey Barajas has vowed to save the turtles, a much more important feat than McKay's.
"I wanted to be able to clean my ears," Barajas said, "but I knew that cotton swabs were harmful, not only to me but to ocean creatures also."
How do these cotton swabs harm ocean creatures? According to Fake Health and Nature Facts, 80 percent of blue-shell ghost turtles have attempted to sauté their own spaghetti and cotton balls recipe. Unfortunately, cotton products cause complications in blue-shell ghost turtles' digestive systems and transforms them into Danny Devito.
"Although I love Danny Devito," Barajas said, "I thought it was harmful to the environment for there to be that many Danny Devitos present in the wild because he would destroy the population of other species."
Barajas made the decision to clean his ears with pretzel sticks and eat the used pretzel sticks when he was done to reduce waste.
"The pretzels tasted odd at first," Barajas said. "I powered through eating them because I knew it was the right thing to do."
Amazing! Barajas kept his promise throughout 2018 and believes he saved thousands of turtles and other species. The world needs more motivated animal rights activists like Barajas in the world.
Despite the extreme commitment involved in these resolutions, both are inferior to chemistry teacher Mr. Ben North's resolution. North was reading a Bible verse on New Year's Eve when he decided to start drinking a 32-ounce bottle of Windex daily.
"I read a verse from Psalms that called me to create a clean heart," North said. "So I decided to physically cleanse my heart with Windex as well as pray to spiritually cleanse my heart."
North believes that if he drinks enough Windex each day, he will have a much healthier heart rate and live longer.
"The chemical compound of Windex is very beneficial to reducing heart beats per minute," North said. "Many don't believe me when I tell them, but all the equations I wrote proved my hypothesis was correct."
North was recently checked into Franciscan St. Francis Health for unknown reasons. He is expected to make a full recovery by Christmas and has lowered his heart rate to 30 beats per minute.
These Rebels surpass the normal level of commitment involved in New Year's resolutions and prove that you can do anything that you set your mind to. The whole Roncalli community can learn from their experience and willpower to continue making meaningful resolutions in the upcoming year.
About the Contributors
Josh Wormann, Co-Editor
Josh, previously known under the anonymous alias "Prepubescent Peter" and frequently known as Jerome, is a very masculine senior who participates in Roncalli...
Liam Moore, Executive Video Producer
Liam is a senior three-year veteran of the newspaper program, functioning as the Executive Video Producer for this year's staff in lieu of establishing...