Tully's triumph
Mr. Bob Tully returns to Roncalli after a miraculous recovery from open heart surgery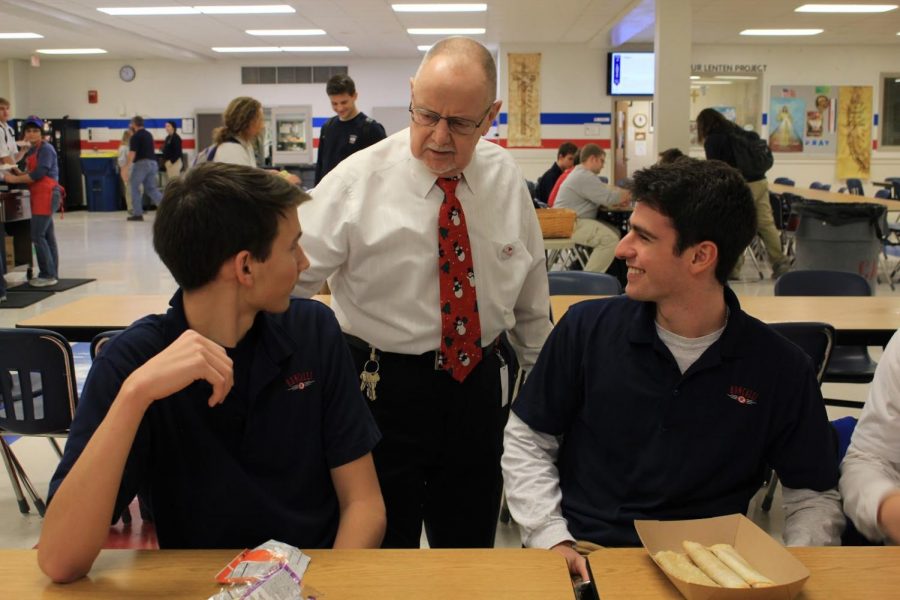 Having walked around the halls of RHS for 57 years, almost everyone knows of the infamous Vice President for Mission and Ministry, Mr. Bob Tully. Tully started as a teacher in 1962 at Bishop Chartrand High School and was involved through various positions such as basketball coach, religion teacher, track coach and football coach. Tully made himself at home both figuratively and literally as he lived on the third floor for two years.
Nowadays, Tully is seen walking around during various lunch periods greeting students, making conversation, and ensuring that everyone feels loved. So when the friendly face suddenly disappeared from the lunchroom, students noticed. Where did he go?
Tully's absence from Roncalli is attributed to open heart surgery, and he was gone a few months to recover from the operation. Although he was away from the building for so long, the Roncalli community did not let Tully forget how much he is loved and appreciated.
"During my struggle the cards, e-mails, calls, gifts, visits, Eucharist, meals and most of all the prayers that I received let me know on a daily basis of the love of the Roncalli Family," Tully said.
Tully's doctor was also amazed by his recovery based on the toll that the operation took on his body. The fact that he is alive today is a miracle, the doctor reminded him.
"When I thanked my surgeon for saving my life, he said he didn't save it, God did and I was just the tool He used," Tully said. " I learned a good life lesson from that statement."
Tully made his triumphant return to Roncalli and acts as though he had never left- whistling, humming, and checking in on students and staff.
"I am truly blessed to be back walking the halls of the best place in the world for kids to experience being loved," Tully said. "God Bless the Roncalli Family!"