Roncalli Wrestling shatters multiple records winning Semi-State
Taking a closer look at the individuals of the wrestling team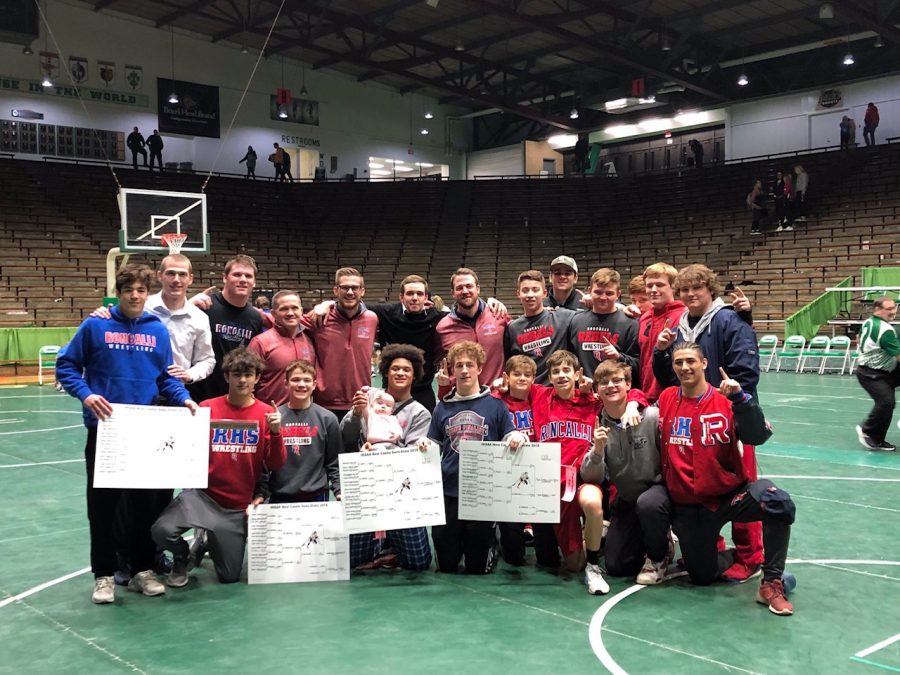 Five wrestlers "punched their ticket" to the IHSAA Wrestling State Championship, which is this weekend at Banker's Life Fieldhouse downtown.
"We are excited for these five individuals to represent Roncalli at the IHSAA State Finals," said Head Wrestling Coach Wade McClurg. "Our guys have set themselves up well to make a run at their individual goals this weekend, and those individual performances can put our team in a position to bring home the big trophy."
For the first time in school history, the wrestling program took first at the New Castle Semi-State Championship on February 9th.
Junior Brayden Lowery, wrestling at 120 pounds took first place at Semi-State, continuing his undefeated season and ensuring his spot in the State finals.
Wrestling at 132, junior Alec Viduya took first place, punching his ticket to Bankers Life to wrestle for another state championship. Viduya won state in the 106 weight class freshman year, and 3rd at the 126 weight class last year.
In the 138 weight class, junior Tyce Freije avenged his last years loss at semi-state and took first place, securing his finals spot for Friday night.
Senior Elijah Mahan took first, pinning his way through the 170 pound class. Mahan's win in the final round versus Logan Hart secured the team's place at first above Cathedral by beating the Carmel wrestler in a short minute and 21 seconds.
Despite not wrestling his freshman year, senior John Harris is now Roncalli's heavyweight wrestler. This being his last time wrestling for the Rebels, he wants to make the season a memorable one. Along with Mahan, Harris will help lead the Rebels to earn the title.
Although the wrestlers did spectacular individually, McClurg emphasizes how they had worked as a team to perform as well as they did.
"Gratitude is a Biblical principle that we talk about a lot in our wrestling program.  Gratitude in our program is defined as thinking of yourself less," said McClurg. "We won the first Team Semi-State Championship in program history, because our attitude and effort was top-notch."
The work that this wrestling team this year is more than evident. They plan to continue to give it their all in the competition this weekend.