Starting the season right
Softball teams continue to make season one of their best after great start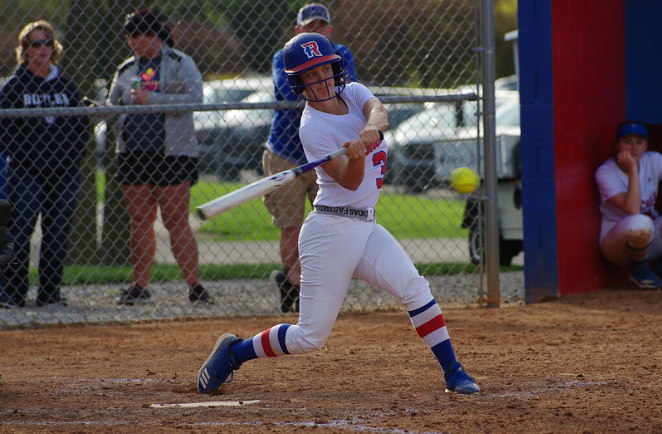 The Lady Rebels softball program kicked off its season with a strong start. Each team won its first game and continue strong from its high start. The seasons look very promising as they go towards their goals to become Circle City Conference, Marion County, and Sectional championships and win 20 games.
Instead of having a freshman, junior varsity, and varsity teams, the softball program is currently divided into two junior varsity teams and a varsity team. Along with his coaching staff, athletic director and varsity coach David Lauck found this new division necessary for the group of girls playing.
"We have a very deep pool of talent this year," Lauck said. "And [we] felt like both teams competing at the JV level would improve our program."
The first JV team is JV blue, is coached by coaches Maddie and Joe Mulinaro and are currently undefeated (8-0) and gaining momentum. Their first game was a strong win against Mt. Vernon by only one point. Sophomore Caroline Leister led the mound by striking out nine batters in the course of five innings. On the offensive side, sophomore Alivia Dugger hit a solo home run. Since starting their season strong against Mt. Vernon, JV blue continues to take the win with strong offensive efforts from freshman Madeline Mader and sophomore Zoey Lord.
JV red, the second junior varsity team coached by the married duo of Dawn and Rick Burkhardt. The team is well underway going (8-1). Freshman Courtney Keller not only allowed two hits and struck out five, but also scored a home run and double. In later games, sophomore Dani Gebhart's bat comes alive as she consistently contributes numerous amounts of hits for her team.
Varsity continues to give their all as they go (10-2). Junior Amber Linton has been the team's consistent pitcher, pitching 2-hit shutouts in games against Speedway and Martinsville. She has also earned several hits beside junior Emma McAllen, who earned a 3-run home run against Franklin Central and 2 hits and 3 RBIs against Avon. The team had traveled to Terre Haute where they pulled out the win, again the champions of the Terre Haute Lady Braves Bash.
Four-year varsity senior Amanda Prather has signed to continue her softball career at Trine University. She has played the sport her whole life and is excited about her next step.
"I am very excited for this next step. I believe I found the place that fits me best," Prather said. "But I am also a little nervous because college athletics are a lot more intense and demanding."
The future looks promising for the Lady Rebels softball teams and their soon-to-be alumni. They continue to give it all as they close out yet another successful season.