The wish of a lifetime
Kathleen Soller, R'18, has just been on the trip of a lifetime. The Make-A-Wish Foundation provides trips for children and young people who have undergone treatment for cancer or other life-threatening diseases, and in 2017, she was diagnosed with a rare form of non-Hodgkin lymphoma, primary mediastinal large B-cell lymphoma.
"I never saw her complain. Kathleen was always positive and has inspired me to look at everything in a positive way," Kathleen's sister, junior Elizabeth Soller said.
Kathleen chose her wish to be a 10-day Mediterranean cruise because she wanted to go to as many destinations as she could and she wanted her whole family to be involved. Elizabeth said she was proud of her sister for choosing the cruise as her wish because she always includes everyone.
 During her trip, Kathleen and her family met Pope Francis.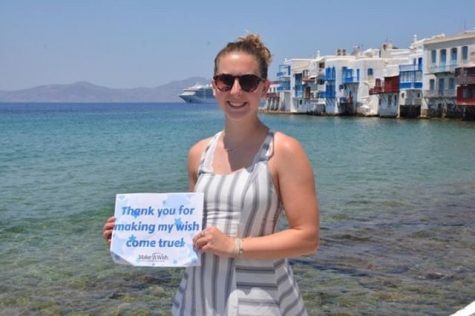 "It was incredible to meet the pope. It still doesn't feel real," Soller said. 
Kathleen now wishes that she could have a complete conversation with Pope Francis. The Soller's favorite part of their trip was meeting Pope Francis and going to Santorini, Greece. 
"My trip was so much better than I could have expected. The cruise staff was so kind and generous and they made the experience amazing," said Kathleen.
 Kathleen is currently cancer-free and will be a sophomore at Saint Mary's College, in Notre Dame.  Kathleen loves spending time with all of her friends. Kathleen chose to become a nurse from her time spent at Riley. While majoring in nursing, she plays DIII lacrosse for Saint Mary's College and is involved in Saint Mary's College Dance Marathon and the Notre Dame Make-A-Wish Club. 
About the Writer
Hannah Oelschlager, Writer
Hannah is a senior at Roncalli High School. She involved in rebel buddies and is a senior leader at the youth group at Holy Name. She is a 4 year swimmer...