Chatting with the speech team
The rebel speakers prepare for the upcoming season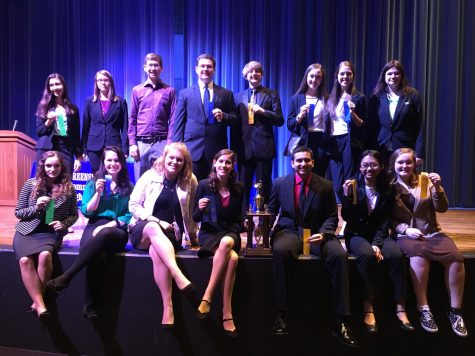 Although the spotlight tends to be shined upon the athletic teams of Roncalli, there is a whole other world of competition that exists and thrives within the school's walls: the speech team.
The team is coached passionately by teachers Mr. Phil Milroy and Mrs. Tristan Litz. Milroy and Litz, who competed on a speech team herself throughout college, enjoy coaching the team because of the way they get to see students grow and find their voice.
"It is incredibly meaningful and fulfilling work," Litz said. 
This upcoming season, the team has big goals in mind, hoping to put more competitors in the state tournament and take previous state competitors to the elimination rounds.
"We also hope that our new members of the team find a supportive environment as they get involved in this fantastic activity," Milroy said.
Students tend to share a similar passion for the team as the coaches. They seem to be just as eager to express themselves through their speaking.
"I'm double entered in Original Oratory and Impromptu this year," sophomore Amanda Wolf said. "Original Oratory provides a way to express yourself or a social message through reciting a handmade essay, while Impromptu is sheerly fun for the way it makes you think and speak on the fly about a wide variety of topics."
With excitement and determination, a variety of new and returning competitors will attend the meet at Rushville High School on November 2 to kick off this year's speech season.