On the field and in the classroom
Teachers' dedication to RHS's athletic department is what makes this school thrive
Teachers do a lot of different activities within the school. Most of the teachers are involved with clubs and sports. Their dedication to the school is what makes this school thrive.
Not only do teachers help students gain knowledge and life-long memories, some also help students learn how better to play the sport they love. Boys' track coach and English teacher Mr. Frank Litz is one of those teachers.
"I think being an in-building coach has huge benefits with recruiting so even though I am old I've always had younger teachers being able to draw students to the team," Litz said.
He has been involved with sports for most of his time at the school. He first coached freshman girls' and boys' basketball but now is coaching track and field. Litz enjoys his time as the coach and wishes to help other sports out so they can all improve and get better with their speed and athleticism.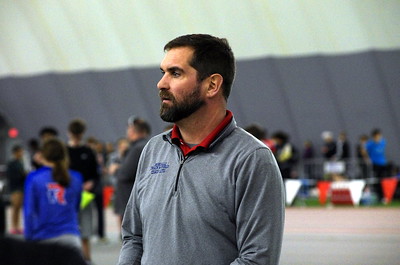 Another staff member who also coaches is math teacher Mrs. Cathy Kitchens. She took over as head girls' cross country coach this season.
"Coaching is relaxing after a long day of grading and teaching," Kitchens said.
Kitchens has been involved with the team for four years and this is her first year being the head coach. She attended RHS and ran  from 1997 to 2001, which is the year she graduated. She was also a member of the 1998 team that went to semi-state.
One of the biggest obstacles for teachers who also coach is finding time to do it all. Social studies teacher Mr. John Hasty coaches two sports and has a young family in addition to his teaching duties.
"I am constantly working on how I balance my time and energy to be sure I show up the best version I can be to our students, our athletes, and my family at home," Hasty said.
Hasty, like most of the other teachers that coach, also played the sports he coaches. He was a football and basketball player here at RHS and then after high school he played college football at Marian where he won a national championship. He is entering his sixth year coaching and is a part of the freshman football coaching staff.
All in All Teachers want to help their students be the best they can, these three teachers and more help them on and off the field with that.
Leave a Comment