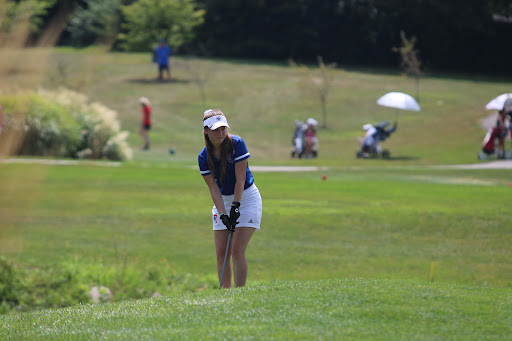 Julia Blandford
The girls' golf team welcomes a new assistant coach this year and adds four freshmen to the lineup.
Because a freshmen team would require five players, all of the freshmen moved up to JV, allowing the program to once again have a JV and Varsity team. Freshman Lacy Barnes holds a position on JV and has some pre-highschool experience under her belt.
"I picked up golf during quarantine because it was something I could actually do," Barnes said. 
Barnes had her debut match Thursday, August 12th at Smock Golf Course, playing against competitive golfers. Hoping to improve throughout the remainder of the season, Barnes also looks forward to growing closer to her teammates. 
"I'm excited to make connections, and the other girls are inspiring," Barnes said.
COVID-19 is still putting restrictions on the sport, and having many freshmen makes for stress, but Barnes believes her season has gotten off to a good start.
On the experienced side of things, veteran golfer and junior Elsie Kerr summarizes her thoughts on the bigger group and new players. 
"[The freshmen] all just started playing, but they're picking it up quickly," Kerr said. "The team has been improving since the first match."
Kerr thinks more teammates makes for more togetherness, and together they have improved. On top of team success, and bonding between the players, Kerr reveals her personal aspirations.
"My biggest goal this season is to make it out of Sectionals," Kerr said.
Sectionals will take place on September 17th, and the top five girls will score. Senior Gracy Bogie claims there are three core players for varsity and four alternates who will be competing for a position on the sectionals roster.
"Sectionals is like normal matches, just with the opportunity to advance if you score well enough…you play 18 holes and if your team score is low enough, your entire team advances," Bogie said. "However, if an individual score is low relative to the other competitors, that individual also has the opportunity to advance."
On top of knowledge of the sport, Bogie wants to add her opinion on the freshman additions to the veteran squad.
"Having a good couple of new freshmen join has really restarted the heartbeat of the team," Bogie said. "It brings me so much happiness to see my coach take so much pride in having a full team filled with wonderful and incredibly talented girls."
Bogie enjoys hanging around her teammates and finds this season to be a special one. Until sectionals arrive, the team will be competing in five matches during September, starting with a match against Park Tudor on the 2nd.