Physics With a Flair
Grimes connects with students in the classroom
If you have gotten your milkshake snatched from your hand walking out of lunch, chances are it was by Mr. Benjamin Grimes. The Roncalli physics teacher, Grimes has a reputation for being one of the scariest and most intimidating teachers in the building. 
If you have never had him in class, Grimes says that his class is one with high expectations where shenanigans will not be tolerated (unless they are his own). Despite his intolerance for students' antics, Grimes loves to take part in his own. 
"My shenanigans were hilarious. One time in science class in eighth grade we were cleaning up chemicals and I dumped the two in a trash can and they combusted but I grabbed the fire blanket so it canceled out," Grimes said.
Even though he had a strong love fun, Grimes joined the army in hopes of finding structure. Through his ROTC program and the six years Grimes spent working with the military, he found just that. 
Grimes found that he thrived under this structure and as a result, he looks to implement that in his class. He finds that students thrive under the pressure for excellence that he puts on them. 
Even though he can seem scary, Grimes makes a point of emphasizing that it is just a persona. 
"I try to play upon people's view of me as scary. There is a huge difference between Mr. Grimes in the hallway and Mr. Grimes in the classroom. In the hallway, I want to be able to get you to stop misbehaving with simply a look. However, in the classroom, this attitude is counterproductive to connecting with students."
Not only does Grimes hope to imbed structure in the classroom, but he also hopes to help his students grow in their faith. 
"Being in an environment where I can encourage and cultivate a life with Christ is the single most rewarding part of what I do at Roncalli. I love that I can openly profess my faith and relate it back to science. It makes me want to grow in my faith and I look to inspire students to do the same." 
Even though he may seem like one of the most intimidating teachers in the hallways, once in his class, a new side of him is exposed making him one of the most intriguing teachers in the building. 
Leave a Comment
About the Contributor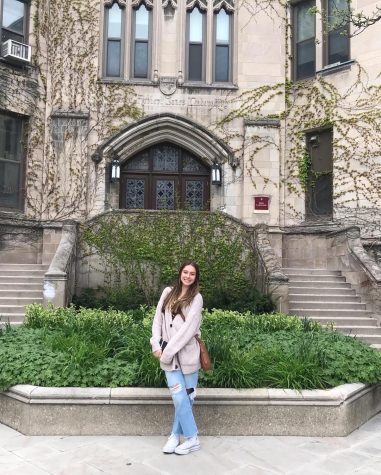 Anna Povinelli, Staff Writer
Junior at Roncalli High School and first-year Roncalli Media writer.

I love reading, photography, and listening to music. Along with that, I play soccer...