John XXIII Gallery brings attention to school's namesake
Art teacher creates lasting legacy for school's namesake
Art teacher Mark Stratton created a special tribute to the school's namesake, St. John XXIII – Angelo Roncalli. The gallery is housed in the front lobby of the school and is enjoyed by both students and visitors alike.
Stratton was under substantial pressure to complete the tribute promptly, as this was just another project he had to work on in his free time. Running his own business and teaching numerous art classes take up a large amount of Stratton's time, and he touched on how the project would have been much easier if he had an open schedule. 
Despite the challenge that timing presented him, he was thankful to have artistic freedom for the project. Although the original idea for the memorial was from Mr. Bob Tully and Mr. Jeff Traylor, Stratton took creative liberties from the start. 
"I feel like I am a visual thinker. This was definitely not a go-with-the-flow kind of project. I had a vision and model from the very start that I stuck to until it was completed," Stratton said.
Stratton was not the only driving force behind the tribute. The brainchild of the Roncalli leadership team, the group worked hand in hand to make the perfect accolade for Roncalli.
President Chuck Weisenbach could not be more proud of Stratton's work for the gallery. 
"I think that this is going to be a lasting legacy. It has been so awesome for people to be able to see the display of all the beautiful things gifted to our school in honor of St. John Roncalli." Weisenbach said. "You almost wish more people got to meet and see where and from who these gifts came from."
A primary contributor was Monsignor Loris Capovilla. A close personal friend and papal secretary to St. John Roncalli, Capovilla would gift members of the Roncalli family many items when they made the pilgrimage to Bergamo. Their tour guides Fr. Giovanni Gusmini and Fr. Eliot Bolis from the foundation also gave many mementos to the pilgrims that came to Bergamo, the place where the school's namesake lived and worked. 
"I really wish more people had the chance to meet Monsignor Capovilla," said Weisenbach. "He had this way about him that made him easy to talk to and bond with. He had so much knowledge about St. John Roncalli. He was almost like a walking encyclopedia."
Another primary beneficiary was the John XXIII Foundation which houses many documents and artifacts from St. John Roncalli's life. Weisenbach said that 10 percent of the school's almsgiving projects had been granted in support of the foundation. 
"When visiting the foundation, you can't help but feel totally immersed. You are literally walking in the steps of St. John Roncalli and being around all of these items from his life."
The official opening of the St. John XXIII Gallery was held on December sixth in the main lobby of Roncalli. 
Leave a Comment
About the Contributor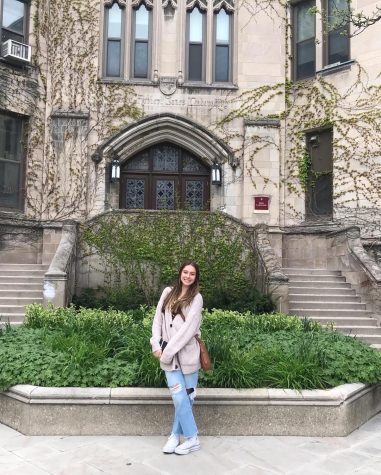 Anna Povinelli, Staff Writer
Junior at Roncalli High School and first-year Roncalli Media writer.

I love reading, photography, and listening to music. Along with that, I play soccer...