Fall one-acts in the making
The cast and crew begin practices for the upcoming one-act plays this November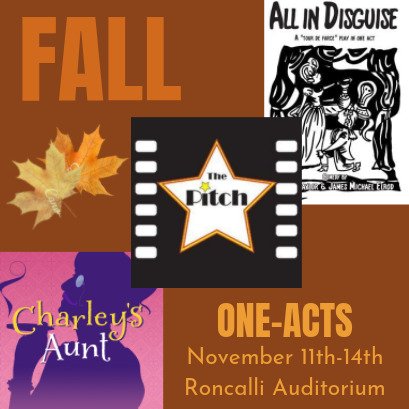 The theatre program has begun working toward the one-act plays scheduled to be performed November 11th through the 14th. Director of Theatre Mr. Phillip Anderson gives a breakdown on what changes were made to make these plays possible.
"The biggest change that we made was switching the musical and the play," Anderson said.
Knowing that the musical tends to attract more people, having the play in the fall instead will ensure that the cast, crew, and audience can safely enjoy these performances. Anderson is going to "break things up a little bit" due to current requirements by Marion County and the state of Indiana.
"We will keep family groups separated as much as possible and keep the actors farther apart as well," Anderson said.
Though protocols will most likely remain the same for the next few months, the future is uncertain. Anderson provides his insight on how they will adjust if things go south.
"We're taking it week by week," Anderson said. "And if something like [the show being canceled] happens, these shows could be done virtually."
Sophomore Amelia Warner, performing in two of the three plays, talks about her experience with practices so far.
"The [casts] are very small, which makes them very close," Warner said. "Some scenes only involve a few people, so we can work off of each other."
Though she is bonding well with the casts, Warner also describes practice as "nerve-wracking" with multiple roles and fast-moving rehearsals.
"This is the first month and we're already running through the show," Warner said. "And we have to be off book by October 7th."
Despite this stress with a quick-paced schedule, Warner expresses excitement for what these plays have in store for her.
"I'm trying to be the next Zach Mayer," Warner said. "Like him, I got freshman of the year and now I have the lead in the play. I'm hoping that the 'All in Disguise' cast brings out their inner showman because it's big, fun, and you need to see it."
As the cast begins its run-through of the plays, the tech crew deals with last year's early conclusion. Tech Director Senior Lindsey Benson describes what their tasks are this year.
"The only difference so far is that we had set strike for our first few techs instead of last year the week after the play," Benson said. "The workload, at least right now, is the same."
Cleaning up last year's mess, this year's smaller tech crew helps students social distance much easier. Despite this minor set back, Benson is enjoying her role as director.
"The practices are going great! Right now we have one tech day per week," Benson said. "I have the job of tech director this year, and so far it's really fun!"
Roncalli's cast and crew will continue to work towards the one-acts in November despite the current pandemic and all regulations put in place.
Leave a Comment