School of sacred symphonies
Royal singers and musicians performed at the annual Christmas concert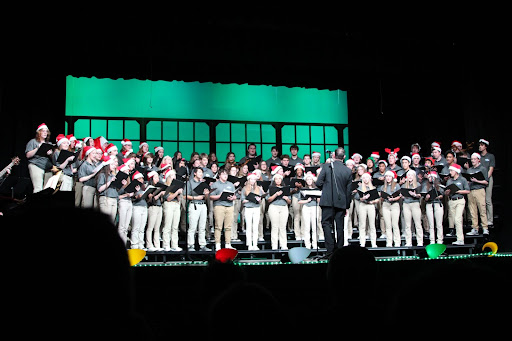 Students in choir and band classes showed off their musical talent at the Christmas concert the week of December 5th. Choirs sang on Tuesday at 6:00pm and 8:00pm.
Showchoir performed first in both shows, singing three songs. Senior Ian Knight arranged the well-known song "Silent Night," the choir's second jingle.
"My process… [was] starting with a melody and then playing a few things on piano to see what chords and harmonies I like and then typing them into the computer," Knight said. "After I have the music written I type the words on the sheet music and give it some finishing touches."
What started as a simple project to become familiar with writing sheet music on the computer turned into a full choir and piano piece that Show Choir got to perform. Knight believes that the shows went well, and he enjoyed singing his own creation.
"I am very grateful to have such a supportive director and choir that was willing to perform this arrangement as it was a very unique experience for me and I think for everyone else involved," Knight said.
Show Choir starts competing January 22nd at Pendleton Heights, but there will also be an opportunity to see them perform here on the 19th for the Advanced Choirs Showcase alongside Advanced Womens'.
Other choirs present for the concert included Beginning Mixed Chorus, Beginning Women's Chorus, Intermediate Mixed Chorus, and Advanced Women's Chorus. Three of the five choirs finished the night with a combined performance, singing Céline Dion's "Don't Save It All For Christmas Day" and "We Wish You A Merry Christmas."
The Royal Jazz Band and Concert Band performed two days later at 7:00pm, and Band Director Ms Kathy Peach prided herself in their performance.
"Everything went well, and everyone has improved a lot," Peach said. "They played some fun and traditional music."
Band started practicing back in October after they stopped doing football home game performances. Both bands will be performing later this year.
Jazz Band competes in February and March, and they will play at the school's big fundraiser "Roar." Concert Band performs in April, and both will be in the Spring Concert to come.
Leave a Comment