Starting off strong
Coming back from a short respite, the boys' cross country team starts off the seasons strong, setting new goals for this year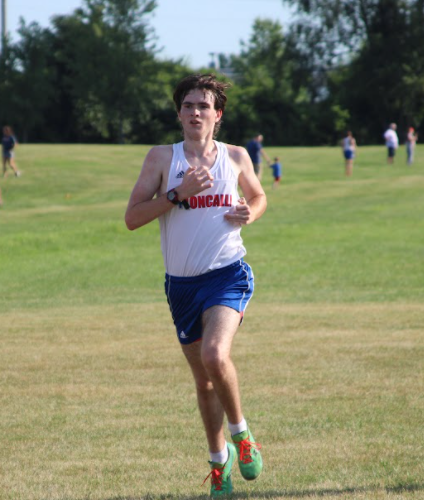 Continuing to improve from the years before, this season's boys' cross country team returns with more strength and experience, heading into competition stronger than ever. Senior Ronan Euzen discusses where the team stands right now.
"This year we have a lot more experienced runners on our varsity squad, who are returning from their cross country and track and field season," Euzen said.
Because of a good track season, and the runners that were recruited for cross country, competition among the runners has led to better performance. This is most true among the varsity runners, with 8-10 guys competing for spots.
"We have three or four guys on track to run varsity compared to a couple years ago when there were always exactly seven guys who ran varsity every meet," Euzen said. 
The training from track season has paid off well for this year's team and has prepared them for the challenges of the season as well as shaving seconds off of their personal records.
"We're all looking out for big PRs and a lot of us are on the track for improving our times," Euzen said.
On top of running success, the seniors this year are trying to make this season their best by leaving an impact on the team. 
"This year is hopefully going to be my best and I want to leave the rest of the team in a good position for next year," Euzen said. "And I want to pass on this leadership to the upperclassmen next year."
One thing that will stay the same is the team's Olive Garden dinner tradition, a meal that guarantees a PR, according to Euzen. The team is looking forward to competing in sectionals and regionals and hopeful by the grace of the Olive Garden ritual, they will make it to semi-state this year.
Leave a Comment