Contagious excellence
Two friends and Earth Club co-founders are named Valedictorian and Salutatorian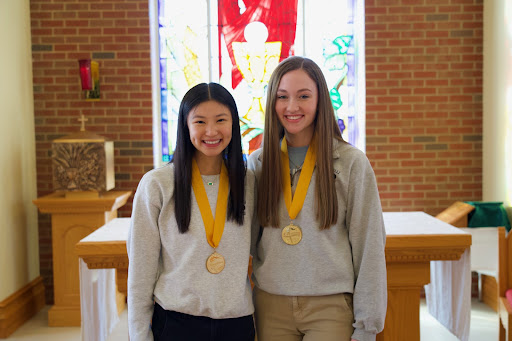 Receiving the titles Valedictorian and Salutatorian in March, our seniors Anne Ameis and Katrina Gangstad share more than just these exceptional honors: they have years of friendship together.
Getting to know each other through classes, Ski Club, and mutual vegetarianism, Ameis and Gangstad found themselves to be like-minded people from the get-go three years ago. They realized that they both have a similar work ethic, and having many classes together, they became homework buddies.
"We usually come to each other for help if one of us doesn't understand something completely," Gangstad said.
Ameis discusses the different ways they collaborate to succeed.
"We usually work together in group projects because we know that we work well together and will do the work evenly. We also always peer edit each other's essays, something we have done since sophomore year," Ameis said. "On the day of a test, we ask each other questions and help each other remember important details right before taking it."
Not only can this duo work diligently together, but they can celebrate each others' accomplishments, and in this case, they are happy to be celebrating together.
"I am excited that both of us are going through this process together and I'm so proud of everything Anne's accomplished," Katrina said.
Ameis expresses the same excitement for our Salutatorian.
"I was so excited when I found out that Katrina was the Salutatorian because she deserves it so much," Ameis said. "She has worked so hard and is super intelligent, so I am very proud of her. I am beyond happy that we are the Valedictorian and Salutatorian together."
Ameis and Gangstad earned those titles through their various academic and leadership achievements.
Guidance counselor Mrs. Angela Maly gave a speech detailing the work ethic and character of Miss Ameis. 
"[Anne] has only ever earned four As on her report card–with the remainder of the grades being A+s," Maly said. "This was done while completing 36 credits of honors courses or greater."
Ameis earned "Outstanding Student of the Year" for four classes, and was named a "Rising Star of Indiana." Beyond her academic achievements are her extracurricular involvements in StuCo, Unified Track, and numerous clubs including Earth Club.
Gangstad and Ameis created the club with the prospect of making the school more sustainable. According to a letter from Ameis' AP Social Studies teacher Mrs. Erin Bohn, the club brings attention to "environmental improvement." Maly agrees.
"[Anne] spearheads our school's recycling program, takes care of the school garden, provides food to shelters, and distributes flowers to the homebound," Maly said. "[Her] concern for our planet and those who live on it is apparent in [her] efforts on and outside of campus creating a better community for all of us."
Outside of Roncalli, Ameis works as an executive board member of the South Deanery Dance Marathon for Riley's Children's Hospital, assists at Eskenazi Health Hospital, and volunteers at St. Francis and Clare's Harvest Food Pantry. 
"[Anne] emulates the discipleship that each of us are called to through giving back to the greater community," Maly said. "She has shown more character, integrity, grit and class than many do in a lifetime. Every opportunity she has ever been given, she has embraced as an opportunity to grow into all that God calls her to be."
Maly said that she believes Ameis will do great things, using her God-given talents to make the world a better, and greener, place.
Gangstad possesses an abundance of accolades herself, including "Regional Indiana Academic All-Star" and "Indiana Rising Star." She also received "Student of the Year" for Spanish and English. Gangstad completed 428 hours of service to date, volunteering at Anna's House, Johnson County Humane Society, and distributing communion to her homebound neighbors.
Planning to attend Purdue University, Gangstad earned admission into the competitive Vet Scholars Program. She works at the Academy Animal Hospital, volunteers at the Indianapolis Zoo Teen Volunteer Program, and attended the Purdue Boiler Vet Camp for two summers.
Outside of the academic world, Gangstad participates in Volleyball for RHS and CYO, Tennis in which she won the Mental Attitude Award, and Speech Team.
Guidance counselor Mrs. Jessica Gattuso shared her own words on our Salutatorian, concluding that Gangstad has achieved much at a high level while bettering the world around her. 
"Katrina is an extremely well-rounded, personable, and driven young lady with a bright future ahead of her," Gattuso said. "Her work ethic, kind-heartedness, attention to detail, and discipline will serve her well in her future pursuits and it is a true joy to know her."
Both of these accomplished leaders emphasized in a combined interview that students should enjoy high school, get involved, and focus on more than academics alone. Find a balance between thinking long term and living in the moment, they added.
According to our Valedictorian and Salutatorian, sacrifice and diligence are necessary for true pay off. But they both agree that the titles don't define them, and that it's important to keep working toward your goals even when you reach one.
Leave a Comment