Watch me whip, watch me nae nae at prom(hopefully)
Expressing the influence of Silentó in the wake of the coronavirus crisis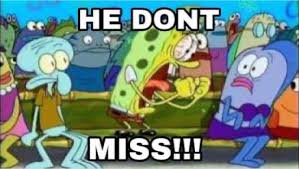 It has been almost 5 years since arguably the biggest instructional dance song went viral. After releasing "Watch Me (Whip/Nae Nae)" in May of 2015, rapper, singer, songwriter, and religious leader Silentó rose to YouTube stardom, amassing over 1.7 billion views and arguably owning the song of the summer at just 17 years old.
Even though the song has outgrown its popularity, its music video still earns around 200k views every day according to Social Blade, a site that tracks social media analytics, proving that Silentó still has a strong following. So, it really isn't far fetched to say that Silentó has had a lasting effect on our generation.
If you ask any student in the school to whip and nae nae, 90% or more would be able to perfectly recreate the dance and remember the song. If you mention Silentó, you'll hear a chorus of "YOU ALREADY KNOW WHO IT IS!" in reference to the rapper's infamous intro.
At February's Roncalli Snowball Dance, Silentó's smash hit served as one of the only hardcore rap songs to be played because, while it is an odd hobnob bass booming bop, it is family friendly, a rare sight in today's rap scene. But unfortunately, Silentó is being blackballed from prom for senseless and discriminatory reasons.
Now, I don't want to jump to conclusions, but this brings me to wild theory I have heard about the outbreak of COVID-19. Experts on the virus have said that it is spreading much faster than it was expected to, which has led to a majority of schools in affected areas to suspend the school year and rely on E-learning.
This has caused many schools to postpone or even cancel their proms, and the fate of Roncalli Prom is still uncertain, meaning that millions of potential prom attendees across the world would be unable to impress their classmates with their beloved whip and nae nae moves.
Could this all be a set-up to demean Silentó's legacy as the most influential dance hip-hopper? I think it is a strong possibility, especially in the current envious state of the music world.
"Real Hip Hop fans," as they call themselves, or people who value rap music that is apparently somehow "more lyrical" than Silentó's, have deemed Silentó as "just another untalented mumble rapper who couldn't hold a candle to the greats like Logic and Eminem." Predictably, they have flooded his social media pages with hate since he started his career as an underground hip hop star, leaving almost a million dislikes on the "Watch Me (Whip/Nae Nae)" music video.
Even after Eminem came out and told his fans that Silentó was his favorite rapper and inspired his whole rap career, Real Hip Hop fans continued to harbor resentment for him, wishing that they could top the Real Slim Shady's list of greatest rappers.
This backwards, unintellectual thinking has dominated real hip hop fans' music politics since revolutionary dance figures like Soulja Boy, Flo Rida, and The Backpack Kid came to prominence, and Silentó's dominance is the tip of the iceberg for them. Which is why I believe these fans have purposely been spreading the coronavirus throughout the world in an attempt to cancel prom dances so they cannot play "Watch Me (Whip/Nae Nae)" and let Silentó's evolving legacy fully manifest.
In this difficult time, I think it is important that we all stand tall together so we can eventually move past this tragic pandemic and celebrate prom night by whipping, nae nae-ing, stanky leg-ing, Superman-ing, and more.
We must also remember our past, and what has inspired us to keep moving forward, so I propose that we also play the hit songs that paved the way for the great Silentó's success, such as Soulja Boy's "Crank That," Cupid's "Cupid Shuffle," iLoveMemphis' "Hit the Quan," The Backpack Kid's "Flossin," The Village People's "YMCA," IceJJFish's "On the Floor," and Lil Jon's "Turn Down for What."
In the unfortunate event that prom is cancelled, I am also willing to provide the school with a little Silentó and Soulja Boy cheer, and will host a charity event in support of coronavirus research and funds on Instagram live with my best attempt at recreating some of the most inspiring dances from the songs listed above. I am also open to any and all suggestions you may have for other songs to include on the playlist.
Leave a Comment