We R all in this together
…even if this year isn't exactly like High School Musical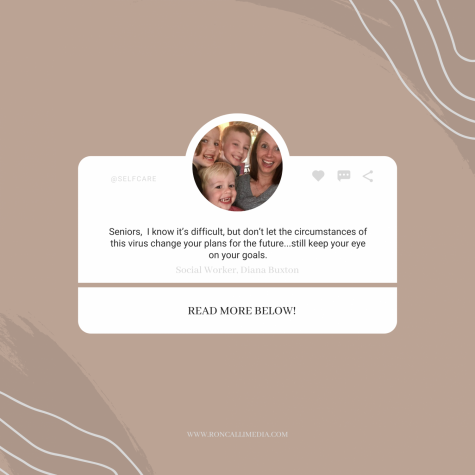 Welcoming back students into the halls of Roncalli hasn't been easy. The students have been facing challenges that no other high schoolers have ever had to face before, while staff have been overcoming the obstacle of teaching through a mask. We really are all in this together as we face this pandemic for yet another school year.
One group of students heavily impacted by the recent pandemic are the current seniors. August 1st was the first day for college applications. This day, dreadful enough as it is, brought its own new set of challenges for 2020. The ACT and SAT have been cancelled and rescheduled left and right since March 14th. This meaning, a lot of students have yet to take either of these tests, let alone retest for a new score. While some colleges are going test-optional, these standardized test scores are sometimes a big factor in scholarships, exception from certain classes, acceptance into a school, and placement for college courses. 
Also, college campuses are not allowing visitors at this time because of an increase of COVID-19 cases. Therefore, the college search has been put completely online. Schools are offering online resources and virtual tours. However, how does one decide what university they want to attend and pay thousands of dollars for through an online tour?
If these obstacles aren't enough, seniors are also looking at a senior year that is like no other. This pandemic doesn't bring any promises, which means goodbye to certain events that these students have been anticipating for almost four years. Events like Homecoming, Freshmen Orientation, Grandparents Day, and many more have already been put to a screeching halt or transformed to an online alternative. It seems that the only thing normal for our seniors this year is senior out-of-uniform days.
However, Diana Buxton, the social worker at Roncalli, has some hope for the seniors saying, "Seniors, as much as possible, still try to find the good things that are going on and build off of that. I know it's difficult, [but] don't let the circumstances of the virus change your plans for the future…still keep your eye on your goals."
She also offers some insight for the seniors to help them understand that they're not alone. "Everyone is feeling [the weight of the pandemic]", Buxton said.
In fact, Buxton claims that even the staff is struggling with this new way of life since COVID-19. The Roncalli staff had a meeting before reopening school on August 5th. At this meeting, they discussed how the school year was going to look, the precautions that come with reopening, and how they can manage their feelings about the effects of the pandemic. Some things students don't think about is how the pandemic is weighing on the adults around us because they continue to remain so calm. However, Roncalli has staff in the building who have underlying health conditions, have family members at risk, have to put food on the table for their families, pay school tuition, and have lost family during the pandemic. 
We can't forget about our incoming freshmen class, too. The transition from middle school to high school is exciting and also nerve-wracking at the same time. This year, the class of 2025 is being asked to tackle their first year at Roncalli with a mask, doing hybrid learning (while trying to navigate canvas), and with limited Roncalli tradition. In fact, when/if this virus allows us to return to normal life, these students might not even know who's who without a mask on. Furthermore, they won't know our mass tradition of "Lean on Me", cheers at a Roncalli pep rally, what it's like to drop Kona Ice on their homecoming dress, or what it's like to be squished in the mosh pit we like to call a "student section".
For these students, Buxton suggests to just try to branch out as much as you can with the opportunities we do have right now. Still try to get involved in a club, meet new people from a safe distance, and try not to lose hope. You have plenty of time to make your high school years the best experience you can. Take advantage of everything, get involved, take pictures (and lots of them), and enjoy those moments that make life worth living. "Don't regret anything!"
Sure, this isn't the year we asked for or expected, but this is the deck we've been given. We are all feeling the effects of this pandemic and the obstacles that come with it. However, instead of letting it weigh on us, let's lean on each other (from a distance and while wearing a mask, of course). Now is a better time than ever to lean on "R" family. That's what Roncalli does best; we always overcome challenges when we are all in this together.
Leave a Comment